Thank you for visiting the website of Rising Sun Chiropractic!
About Us
Rising Sun Chiropractic:
The mission of our St. Peter chiropractic clinic is to create phenomenal wins when it comes to your health. We want to help you become:
Pain Free
Healthy
Vibrant and energetic
Many people come to our clinic after they feel like they have "tried everything." Perhaps you have been to a big name medical center and received an impressive sounding diagnosis, yet received little true help for your condition. You're not alone.
At Rising Sun Chiropractic, we provide real solutions to your health problems because we focus on finding the root cause of your concerns. We use only natural therapies that use your body's healing powers to help restore your health.
I can tell you with confidence that wherever you are on your journey to health, we can help get you to your goals. The care you receive at our office will be tailored to your individual needs. We offer a friendly, peaceful, and safe environment where you can relax and enjoy your journey to renewed health and vitality.
Please take some time to browse the pages of information contained within our website. Please contact us to let us know how we can help you! We look forward to creating a phenomenal win for you!
Yours for good health,
Dr. Seth
Dr. Seth's Chiropractic Story:
I am originally from Lake Crystal, MN and spent my childhood doing all the fun but dumb stuff that kids do, swimming, water skiing, jumping out of trees, making jumps for my bike. I wasn't born with much for coordination or grace so stitches and injuries were a pretty common occurrence. I have gone through a few more serious injuries to my lower back which lead me to chiropractic care and me nearly leaving chiropractic school, more on that in a minute. I grew up doing physical work(electrical grunt work) and physical play and in 8th and 9th grade hurt my lower back playing football, which began me having a "bad back" for about 13 years. I had days where I couldn't get off the floor, I missed school and work and while terrible at the time is something that I am grateful for…now. When I started chiropractic school I started sitting for 60-80 hours a week and my back pain started getting worse and worse, the good news was I could go see a chiropractor, the bad news was that everyone was doing the same thing and it wasn't working. Fast forward to my mid second year and I was ready to quit school, how could I enter a profession that was not helping me. I expressed my frustration to one of my classmates that came with me to extra classes on the weekend, he suggested that I try one more class that might be a different approach. Reluctantly I went with Andy(my classmate) to a seminar of someone teaching a style of Applied Kinesiology and luckily for me the weekends focus was on back pain. That day I was introduced to the foundation of a great deal of how I practice today. That teacher has remained a mentor but showed me that there are many different approaches to treating injuries and to never stop exploring different approaches. I spend many weekends in nutrition classes, rehabilitation classes, physical therapy classes and so on. There is no one size fits all to our health and we need to take a big picture view in order to reach our goals. Our health is our greatest asset and we should never stop working to achieve a healthier us.
When not in the clinic, I have the pleasure of being married to my wife Christina, I love being a dad to one son currently and another on the way. I am a sci-fi nerd, love video games, snowboarding water skiing, lifting weights and being outside.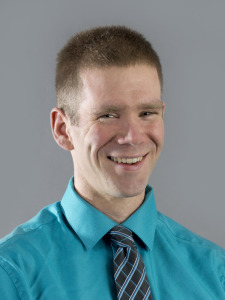 Seth Nelson, DC, CVSMT
Chiropractic Physician
To contact Dr. Nelson directly, e-mail drseth1@yahoo.com
Contact Us
For general information, e-mail contact@risingsunchiro.com
To contact Dr. Nelson directly, e-mail drseth1@yahoo.com
Phone: 507 934 3333
Our physical address is:
1520 S. Minnesota Ave.
St. Peter, MN 56082
Or, feel free to use this form:
Our Products
The Back Store in our office carries a variety of at home back care products. In the office we carry Foam Rollers, Therapy Sticks, Tens Units, Orthopedic pillows, Biofreeze, Rock Tape, Foot Levels Orthotics, Back supports and braces. Each of these products are demonstrated with patients prior to purchase to make sure they are used to their fullest.
We proudly carry Metagenics, Orthomolecular, Nutrition Dynamics, Xymogen and other pharmaceutical grade nutrition in our office. If you are a patient, and would like to be able to place orders online through our supplier, please contact us at our office or fill out the form below to set up an account. The products available can be found here.
Our Facebook Feed
Check out what's going on at Rising Sun Chiropractic on our Facebook Feed!
FAQ
What's Wrong With Me?
Accurately identifying the cause of spinal pain or other discomfort almost always requires a thorough consultation and examination. Individuals should not assume their pain stems from the same problem, for example, their neighbor had, and thus what has helped their neighbor will help them. Just as every individual is unique and different from the next, so too are the health conditions they suffer and the treatments they require.
Chiropractic doctors are highly trained in the diagnosis and treatment of soft tissue injuries and abnormalities common to the spine, extremities and rest of body. Rest assured that if you are suffering from back or neck problems, extremity problems or other health related ailments chiropractic can provide you with the effective professional relief you demand. If your condition is out of the chiropractic scope or would be more appropriately managed by another health care specialist, we will gladly and promptly make the necessary referral.
Can Chiropractic Help Me?
Chiropractic has helped millions of people worldwide suffering from all types of problems and not just back and neck ailments. Chiropractic works with the spinal column and it's intimate relationship with the nervous system – the major controller of all bodily functions. By optimizing spinal column structure and biomechanics, irritation and stress are removed and health can once again be achieved.
You may be surprised to learn that research studies have provided scientific evidence showing chiropractic care is not only effective in the treatment of back and neck ailments, but can also provide effective relief with children suffering from ear infections, women suffering from dysmenorrhea (painful menses), and a number of other seemingly "non-spinal" conditions. While it's not prudent to guarantee relief from such conditions or claim to "treat" these conditions, chiropractic has successfully helped millions of individuals with all sorts of health conditions by positively affecting the nervous system.
Of course, doctors of chiropractic are best known for their success in treating back and neck problems. Through the use of chiropractic spinal adjustments and other highly specialized chiropractic techniques, chiropractors have established themselves as the back and neck injury specialists. Many medical experts are now coming to understand the true effectiveness of chiropractic care and are recommending major changes in the way our health care system manages many common spinal problems. According to a recent Ontario Ministry of Health commissioned study on low-back pain,
"A very good case can be made for making chiropractors the gatekeepers for management of low-back pain…"
How Long Will It Take?
While treatment lengths vary somewhat from person to person and from condition to condition, there are a few rules of thumb you can follow.
First, newer injuries, if treated appropriately and immediately, tend to respond to fewer visits assuming that major tissue injury has not occurred. Many of these first time injuries can be effectively managed in as little as 3 to 4 visits. Conditions that have been present for greater than 3 months and recurring conditions are generally more stubborn and difficult to manage. Resolution may require 12 visits or more.
The only sure way to determine how long your treatment will take is to schedule a consultation and/or examination.
For those of you who believe in just waiting for the problem to "go away" on it's own – understand that the longer your condition has been around, the more treatments it will eventually require to resolve.
How Much Will It Cost?
Costs vary and generally depend on the number of treatments required to effectively treat your condition. A number of studies have shown that chiropractic care is extremely cost effective when compared to other "medical" forms of care for similar conditions. According to the 1993 Manga Report,
"There would be highly significant cost savings if more management of low-back pain was transferred from physicians to chiropractors. Users of chiropractic care have substantially lower health care costs, especially inpatient costs, than those who use medical care only."
Do I Have To Keep Coming Back For Treatments?
You may have heard the notion that once you go to a chiropractor you have to keep going back. Before we answer that question, ask yourself how many times you have visited a dentist? Like most people, you've probably gone dozens of times. Why? Quite simply, to prevent your teeth from literally rotting out of your head.
Once we have eliminated your pain and rehabilitated the injured tissues we do recommend that you maintain a schedule of periodic spinal checkups. Like your dentist and like many of the medical experts are now recognizing, prevention is the key to reducing recurrences of existing health conditions and minimizing new injuries in the future.
So the answer is yes, we want you to keep coming back, but just periodically. Periodic chiropractic care minimizes spinal and nerve stresses, reduces recurrences of old injuries, prevents new injuries from developing, minimizes degenerative processes, which enhances overall health and wellness.
Are Chiropractic Treatments Safe and Do They Hurt?
Chiropractic treatments are extremely safe for individuals of all ages – from infants to 100 year olds. Our treatments are safe because we only use natural and noninvasive methods of care. Research consistently shows that care from chiropractors is among the safest care available and is literally light years ahead of traditional medical care in terms of "safeness".
The treatments themselves are generally not painful. In fact, most patients look forward to their treatments as many experience instantaneous relief immediately afterwards. Individuals who present with moderate to severe pain may experience some minor discomfort for obvious reasons, however, care is always gentle, safe and noninvasive.
Testimonials
Share your testimonials with Rising Sun Chiropractic!
If you would like to add your comments please email to drseth@risingsunchiro.com or contact@risingsunchiro.com
-Chasity Senesac
Dr. Seth Nelson in my eyes is a God send. So thankful that we have crossed paths and that he has and continues to help me get back to me instead of dealing with chronic low back pain as a norm and just dealing with it. Happy to say in just a little over 5 months together we have accomplished what others where not able to accomplish in a little over seven years. If you value your quality of life and truely want to treat your body as the vessel that god made and are sick and tired of feeling that chroinc pain is okay and you just have to deal well all I have to say is you should see Dr. Seth Nelson. Thanks for all that you do and continue to do Dr. Seth Nelson.
Katie Schlangen
"When I first went to Dr. Nelson I could barely move my neck because of a car accident. I had tried physical therapy, and a back rehab program, which led me to a stomach ulcer because of pain medications I was prescribed. He really worked with me, my schedule, and my insurance as a college student to ensure that I could move my neck and be without pain. He is phenomenal, and I would highly recommend anyone to him. Thank you, Seth!"
-Margie Forst
I liked to take time thank Seth. I am so glad that I have found him. I have seen quite a few chiropractors over the years, he has helped me the most. I always feel better after a treatment. He has a good feel for what needs to be adjusted. I appreciate his knowledge and advice.
–Jill Cousins
Dr. Seth is very thorough and I am so glad I made the decision to start coming here!!
-Stacey Dioquino
"Definitely one of the best chiropractors I have ever been to. He is so caring and really listens and follows up with you even if you haven't been in for awhile. I recently moved away now and I hate that I can no longer go to him. Great job Seth."
–Kevin Gilbert
"I was really impressed by the standard of care that Seth provides. He took time to explain everything he did and became a friend in the time I was under his care for a back issue. He was extremely through and pleasure to have treat me. I highly recommend his service to anyone as he looks to solve the underlying issue rather than just make you feel better a temporary fix."
-Luke Rudberg
"If you're in the saint peter mankato area go see Dr. Seth Nelson at the Rising Sun Chiropractic! As an athlete he is the reason my body isn't falling apart and that I am able to continue competing and training. 5 stars because he is the best at what he does and I always see progress/feel better. He wants you to feel better, not to take all of your money.
Chiropractic, nutrition, wellness, weight loss, detox, orthotics, animal chiropractic they do it all!"
-Deb Peters Johnson
"Thank you Seth for all you have done for me so far!! With your treatment I am able to function better every day. It is ridiculous to think of all the Doctors I had to see before I came to you for care. Thank you."
-Rob Thomas
Dr. Nelson was extremely thorough and helpful when I was in pain. St. Peter is so lucky to have such a caring Dr. as a part of our community.
---
ANIMAL TESTIMONIALS:
WILLIE
"Willie is an 11 year old Yellow Lab that has a lot of hunting miles on her but she has enjoyed every one of those miles as hunting is her passion. I noticed late this summer that she didn't have her normal pep and that her back legs were not working properly. As the hunting season approached Willie was getting worst and could hardly get up after very little activity. I was very concerned that if she continued her downward slide, well I was not sure if she would make it through the winter. I have used chiropractic healing for my aches and pains and have had great results so when I heard that doctors offered that same care for animals, I called Dr. Seth and made an appointment for Willie. Dr. Seth was great with her and after 2 adjustments Willie is back to her old self. She has a bounce in her step again is playing with our other 4 year old lab. She has gone on 4 hunts and has shown no stiffness or pain afterwards. It really has been amazing to see the transformation from a dog that was in pain and could hardly get around to what she is doing now. For the sceptics out there about Chiropractic healing I will just say that the proof is in the pudding. A dog does not think like you and I they just know when they are feeling good. Willie is a new dog since her visits I could not be happier with the results.
Thanks Seth for all your help."
-Bill Goebel, St. Peter, Minnesota
PEP
"When Seth met Pep he was sore, tired and nervous. He never wanted to see another saddle again. Nine months later pep is moving like a young horse again and having fun. Seth has been so respectful of his nervousness and treated him excellently. Thank you Seth."
-Emma Campbell
KIRBY
"My four year old Tennessee Walker developed a bad habbit of kicking when he was being cinched. It was strange because this did not seem to fit with his easy going personality. After about three or four visits with Dr. Seth, Kirby now stands still while the saddle is being put on and tightening the cinch. His overall tolerance for being worked with has improved as well. Dr. Seth was great to work with and I encourage others to try chiropractic care also."
-Megan and Kathy, St. Peter, Minnesota
Referred by Dr. Jeff Paasch DVM, Nicollet Veterinary Clinic, 1020 3rd St., Nicollet, MN, 507 225 3401
SIREN
"Siren is a 7 year-old Afghan hound. He is active and runs competitively in straight line and oval track racing. A little over a year ago, Siren started acting subdued. He wasn't moving well and he didn't seem happy. He wouldn't run around the yard with the other dogs and he didn't want to race. I soon realized that Siren was in pain. I talked with friends that are knowledgeable about dogs and was advised to take Siren to Dr. Seth.
Dr. Seth identified several areas of the neck, back and hips were causing the pain. After receiving treatment to those areas, Siren has returned to his old self. He's happy and playful again. His confidence is back, and he's racing again like the champion he is. I am very impressed not only by the tremendous results from Dr. Seth's treatment, but also by Dr. Seth's kind, gentle and genuinely caring manner. On our occasional trips back to Dr. Seth for aftercare, Siren can't wait to see Dr. Seth. Siren is Dr. Seth's biggest fan."
SEEYA
"SeeYa is a 7 year-old Afghan hound. (She is Siren's sister). She's an active dog, and a champion racer and lure courser. For years SeeYa suffered from pain in one of her wrists. I had taken her to the vet for this, and she was on pain medication. When I learned about Dr. Seth, I immediately made an appointment with him for SeeYa.
SeeYa has a soft temperament, so I was worried at first that she might be too shy and wary to accept treatment. But Dr. Seth's kind and gentle manner won SeeYa over immediately. He gained her trust, and she recognized that he was there to help her. After 2 sessions with Dr. Seth, SeeYa's chronic wrist pain was completely gone, and has not returned. She feels well. She's happy and more outgoing and confident. She's playful and eager to run. It is a joy to see her performing well again. SeeYa adores Dr. Seth and I am so grateful to Dr. Seth for changing SeeYa's life."
Vickie Fagre, Stacy, MN
GATOR
"My champion Saluki, Gator was playing in the yard and came up lame. As a person who has benefited greatly from chiropractic treatment, I called Dr. Seth and set up a visit. He came over and adjusted him, which Gator loved. Dr. Seth gave me some stretching exercises to do with him. After two visits, Gator is back to himself, on the show circuit and competing as the number one Saluki in the country. I could not be happier with the results. Thank you Dr. Seth!"
Lisa and Gator, Mankato, Minnesota
ZIP
"Here is Zip's story in a nutshell. Zip had a chronic limp when I bought him. I felt certain that with the proper care he would be sound and happy once again. He had a history of poor hoof care. His heels were too long and sometimes he had shoes left on for months at a time. In addition, he had what some called a "clubby" right front hoof. This is most often the result of an injury causing a horse to favor the opposite side leaving the injured side under developed. This was very noticeable in Zip's shoulder area as well as his hoof. My first step was to get his shoes off and begin the transition to barefoot. With the help of my farrier, Janet Hagen, after six weeks with barefoot trimming, Zip stopped limping! A great day. Janet kept his feet in awesome condition and occasionally still he limped on and off. We now needed to move elsewhere on his body. Sharon Stokesbary provided Equine Touch therapy and Zoe Barta gave Zip massage therapy, focusing on the right shoulder area. It was clear that we were on the right track. I also added Chinese herbal therapy, which had a profound effect in helping enable Zip to race around just like the other horses. Adequate movement all year long played an important part in this whole recovery period.Since we had not addressed the original injury, I decided that chiropractic care was the answer and tried to get a reference. My first attempt was disappointing but fortunately, I kept asking and was lead to Dr. Seth Nelson. With Janet in the picture, we were able to give Zip the perfect trim just before Seth started to work on him. Since we have started, Zip just keeps getting better and better. Old restrictions and adhesions in his neck and shoulders have been treated successfully and with each visit, Zip requires fewer adjustments. If your horses need adjusting, Dr. Seth is the person you want to care for your herd. I am grateful for his help in getting Zip back on all 4 feet!"
Betsy van der Hagen, Vernon Center, MN
DAISY
"Daisy put her lower back out just trying to jump up onto our laps. She had trouble jumping up on the couch and even walking straight. She is a very active lil' dog and was not herself at all. We tried a cortisone injection but it did not help her. So we heard of Seth's chiropractic services that he does on animals. We called him and he came to our house (which was nice because it would have been hard for Daisy to try to ride anywhere).Seth examined her and gave her a treatment. We could see immediate improvement in Daisy; more flexible and able to run some. Seth came back a couple more times and we have our fun loving, active Daisy back to normal! We recommend him and his services to anyone with an animal in pain. He is a very patient young man and his love for animals shows in his handling of our dog."
Bill & Shellee Daley from Madelia MN
HARRY
"Prior to my four year old Paint gelding, Harry, being treated by Dr. Seth, he had difficulty flexing his neck, to the point of falling down with his trainer when asked to flex laterally. When saddled, Harry would attempt to bite. When ridden, it was noticed that Harry's stride was shorter on his left side and he appeared tense, stiff and unable to relax. When in the pasture, Harry rarely played with the other horses or rolled. Changes were noticed in Harry's demeanor following his first treatment. He appeared much more relaxed, carried his head lower (almost level with his withers) and the range of motion in his neck improved. With each treatment improvements were noted and Harry seemed to look forward to Dr. Seth's visits. Following approximately four treatments, Harry is now able to flex his neck with ease and has become very supple and light in the bridle. His stride has improved and he is very relaxed when ridden. Harry can now be seen cantering and bucking with the other horses in the pasture and doesn't hesitate to roll! Dr. Seth was very flexible in scheduling appointments around my work schedule and very willing to answer any questions I had. For anyone noticing unexplained behavior changes in their horse, I would highly recommend considering chiropractic care and Dr. Seth."
Lorie Pregler, New Ulm, MN
Referred by S. Lynn Kittleson DVM, Goldmount Veterinary Center, 865 20th St., Sherburn,MN, 507-695-2341
ABBY ROSE
Abby is a Yorkie that was dealing with some bad low back pain. She was unable to do stairs and was no longer playing or interested in going outside. I had the pleasure of treating Abby over the span of 2 months and treated her about 5 times. I recently recieved a letter from her owner and would like to post it. -Dr. Seth
Dr. Nelson,
"I would like to thank you for the excellent care you provided for Abby. When you first came to see her she was barely able to walk and was completely unable to navigate a single stair. After a few treatments she was showing remarkable improvements. She is now doing very well. She now walks, runs and is able to go up and down stairs without any trouble. The exercises you suggested were very helpful and we continue with those. The nutritional recommendations you suggested have also been a big help. I continue with those also. We are grateful to have found you and for your excellent care. It was a very rewarding experience. Thank you."
Sincerely,
Mary Krippner and Abby Rose.
TASHA
Following is my testimonial of Tasha's experience with your wonderful animal chiropractic care:
"We brought Tasha to you for a general wellness evaluation, because she had been experiencing right shoulder bursitis and rearend weakness for approximately the past year. We had been treating her for these conditions holistically with Chinese herbs, with pretty good success. She doesn't have a very strong constitution, in general, and wanted to use every means possible of treating her shoulder bursitis, hip/pelvic issue, strengthening her immune system and general health. While her primary care giver is a holistic veterinarian, this was her first chiropractic visit. We thought a chiropractic evaluation couldn't hurt. I find chiropractic treatment to be very beneficial for myself.
During our first evaluation, we found it very surprising that Tasha went to you right away and was comfortable with you. She is a shy Sheltie, especially around men. She was immediately comfortable with you and allowed you to touch and handle her. I think she innately knew you wanted to help her and wouldn't hurt her. Your approach with Tasha is loving, caring and respectful of her.
After we returned home following the initial visit, Tasha appeared to be a new dog. She was far more active, limber and agile, jumping, running and playing like we hadn't seen for at least a year. Her demeanor and behavior changed, appearing to be pain free. She no longer got up from a sit slowly and stiffly like a little old lady. She sprang up, running and jumping. Her eyes were brighter, she had a happier attitude and a lighter spirit. She wasn't experiencing pain any more. She's behaving more like the 3 and a half-year old dog she is, rather than a 15-year old senior citizen. The transformation in our beloved Tasha has been amazing, thanks to your animal chiropractic care!
I plan to continue her active treatment and transition her to maintenance care when the time is right. I strongly believe in the importance of investing in our good health and animal chiropractic care with you is critical for Tasha's health, happiness and quality of life. We want to have her with us for as many years as possible. I know your care of her is helping to make that possible!
God bless you, Dr. Seth!"
CHANCE
"My name is Victoria Meurer and I have a 6 yr. old Rough Collie named Chance that has had problems with what I thought was his hip for the past 4 years. I have taken him to vet many times and had x-rays taken a few times but they could never find anything wrong with him. I was told he probably pulled a muscle while playing. A year ago I saw that a doctor was having a class on chiropractic care for animals at our local community center and just had to go. I was very impressed with his talk and wondered if he might be able to help my dog. Since this limping thing would come and go and I was told by my vet that it was from a old injury I just kept putting off going to see him. This past winter Chance slipped on some ice and he was getting worse as far as it being very hard for him to get up and not putting any weight on his leg and limping. The least amount of playing would have him limping again. I was sure he had arthritis but once the test came back that he did not have it I made an appointment to see Dr. Nelson. I like the idea that he will come to your house if your pet has a problem with going places but since my dog loves to go out I took him to his office. Chance was not limping when I took him to see Dr. Nelson and I was very impressed at what he picked up on just by watching my dog walk and shake out his beautiful Collie fur. I like the fact that he did not try to put Chance up on a table but instead got down on the floor with him. Chance thought he was just getting a big hug and did not even know he was getting adjusted. He did find one bad spot on his back and I then realized it was the same spot that when I would be scratching or massaging Chance, he would pull away from me when I touched that area. The result of just that one adjustment was like a miracle. I notice right away how much easier Chance got into the car. Dr. Nelson gave me instructions on things for me to do and not to do until I took Chance back again. I thought the first adjustment was great but the second time was even better. I can tell how much better Chance feels and can see it in his eyes. No more limping or having problems getting up.
The sad thing is I had heard about this for animals but didn't know there was a chiropractor in our area that did this. And the most horrible fact is that when I did find out there was someone like Dr. Nelson I did not take my dog to him right away. Don't just listen to your veterinarian. If you have gut feeling that something like this could help your companion, don't wait like I did. Dr. Nelson will check your pet over and tell you if he can help or not. I feel so guilty for putting it off because I know how bad it is to live with a sore back.
Psst !! he does work on people too and I was very impressed with my first visit. After years of going to the same chiropractor he told me and showed me things that no one else had ever done before. Now Chance and I will be seeing the same doctor."
Victoria Muerer, St. Peter, MN
Cathy Berg
Frosty is my 13 year old gaming horse. In the summer we go just about every weekend to the shows and we play hard. This winter I noticed that Frosty didn't want to pick up his left lead and he was off at the lope. He just wasn't happy. After an eveluation from Dr. Seth, he suggested Frosty could benefit from a few teatments. It didn't take long before you could see a difference in Frosty. He will now pick up his left lead, doesn't drop his hip going around the barrel, and he is alot smoother in his gates. Most of all he seems more comfortable, relaxed, and happy again. Thanks to Dr. Seth for making Frosty feel so much better.
BELLA
"Bella is wonderful, sweet spirited Cavalier King Charles Spaniel that came into our home after 2 years in a puppy mill and then 2 stays in a humane society. For many years, my desire had been to have a dog that could be used for Pet Therapy, and she seemed perfect for the job. So, home we came.
Bella completed her Therapy Dog International certification in December, 2009-just 3 days short of 10 months after I brought her home. So, off we went to learn our craft.
Bella loves most everybody and enjoys being held and cuddled on our visits. She wiggles constantly. Until one day when she wouldn't go down the steps, didn't wag her tail, wouldn't jump into our lap. Our vet felt she had a back problem and prescribed 2 baby aspirin twice a day until she felt better-and this worked. But occasionally she would show the same symptoms, and the aspirin always relieved them. Then one day, we visited an institution where several adults held Bella and although she didn't resist, she didn't show her usual exuberant personality. Back on the aspirin twice a day.
When I discovered Dr Seth on the internet and spoke with him, he felt we could achieve having her both pain free, and aspirin free. So off we went to St Peter.
And she is!!!! Both pain free and aspirin free!!!! She is feeling the greatest I've ever seen her! She plays with the cat, rolls around on the grass, wags her tail, bounces when she walks, jumps onto our laps, runs up and down the stairs,and once again is enjoying being picked-up and held-after just 2 adjustments. She is a happy girl, and I am a happy mom!
I'm not sure exactly what Dr Seth did (ever though he did explain it to me) but I am forever grateful to him and his gentle ways with Bella. I would wholeheartedly recommend him if you have a pet that is in pain or on medication for that pain. He is the greatest!
Thank you, Dr. Seth!"
Joyce Jacobson and Bella-Truman, MN
"P.S. Bella absolutely adores him!!"
Chiropractic Myths
Spinal Adjustments Hurt
Quite the contrary. Many patients feel instant relief immediately after their treatments. In fact, most look forward to their chiropractic treatments. In patients suffering from severe bouts of back or neck pain, some discomfort may be experienced for obvious reasons, however, for most patients this is not the case.
Spinal Adjustments Are Dangerous
Chiropractic spinal adjustments are extremely safe when performed by chiropractors. In fact, chiropractic adjustments are among the safest treatments for most back and neck problems. According to a 1993 Ontario Ministry of Health commissioned study,
"There is no clinical or case-control study that demonstrates or even implies that chiropractic spinal manipulation is unsafe in the treatment of low-back pain. Some medical treatments are equally safe, but others are unsafe and generate iatrogenic (doctor-induced) complications for low-back pain patients. Our reading of the literature suggests that chiropractic manipulation is safer than medical management of low-back pain."
Lead investigator of the study, Pran Manga, Ph.D., however, did warn that spinal adjustments performed by health care professionals other than qualified doctors of chiropractic were potentially harmful and less effective:
"Indeed, several existing medical therapies of low-back pain are generally contraindicated on the basis of the existing clinical trials. There is also some evidence in the literature to suggest that spinal manipulations are less safe and less effective when performed by nonchiropractic professionals."
On December 8, 1994, the Agency for Health Care Policy and Research (AHCPR) of the US Department of Health and Human Services released clinical practice guidelines for the management of acute low back pain. Their guidelines were developed after extensive study of the diagnostic and treatment methods used for acute low back pain. Their findings included:
The risk of serious complications from lumbar spinal manipulation is rare;
Conservative treatment such as spinal manipulation should be pursued in most cases before considering surgical intervention;
Prescription drugs such as oral steroids, antidepressant medications and colchicine are not recommended for acute low back problems.