Tired of the muscle pain, arthritis, lower back pain, sciatica… we could go on and on.  Picking up a kid with sore shoulder, lifting a bag of groceries out of the trunk or trying to get one more rep in a deadlift when the pain gets in our way it is frustrating!  How you choose to manage pain, what therapies or at home care you use can get you back to the important stuff in life or keep you on the sidelines.  Don't spend another day avoiding activities that your friends take for granted.  You should be able to heal and get back to life on your terms.  That is why we have made this powerful new addition to our available therapies.
At Rising Sun Chiropractic in St. Peter we are always trying to provide the very best care for St. Peter, Mankato and the surrounding areas.   Our motto "It's A New Day For Health" is all about taking steps each day to take ourselves in the direction of our being our best.
At Rising Sun Chiropractic we know that one tool or technique is not going to work for everyone.  All of us are different and while chiropractic works fantastically for muscle, joint and nerve pain, sometimes it's not the ONLY tool that will work.  Dr. Nelson is frequently adding new approaches to pain relief and self empowerment to the services that Rising Sun Chiropractic provides.  When you come in the office we try to look at the big picture and make sure you are getting specific recommendations to your injury, not just a cookie cutter experience, you are UNIQUE and should be treated that way.
Adding the LightForce EXPi into the office is a very exciting opportunity.  When you have a painless therapy that can in most cases can immediately reduce pain, inflammation, swelling and speed up the healing rate, it's very exciting.  As a chiropractor I know that sometimes people don't get treated because of fears around hearing pops or cracks, at Rising Sun Chiropractic we strive to provide care for where each patient is most comfortable.  Deep tissue laser therapy allows us to take the fear out of the office.  Pain relief without the concern of more pain.
Deep tissue laser therapy is a surgery free, drug free way to speed up healing, reduce the need for medications and get you back to your treasured activities faster.
How does it work?  Here is the geeky answer, it generates a photchemical response in damaged tissue.  This process stimulates healing on a cellular level by triggering your body to produce more energy.   Treatments are safe, painless and most people feel imediate results.  With our 25 watt laser we are able to get much deeper tissue penetration, resulting in fast, lasting results. Most treatments are fast, taking only 4-15mn depending on your injury.
Check out a what others are saying about our laser here and here
Rising Sun Chiropractic is now taking appointments for this amazing therapy!  Call or message us for more information.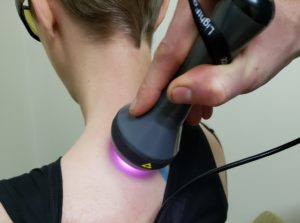 Treatments are usually completed within 5-15 minutes depending on the size of the area treated.