Flip the Script in 2021
When was the last time you made this excuse? "I don't have time to exercise, eat healthy, read, meditate, pray, go to the chiropractor, etc." Now that you're thinking about it, do you make this excuse multiple times a week? Multiple times a day?!
The truth is we make these excuses all the time! By doing this we cheat ourselves out of something that will make us better, healthier, smarter, more relaxed, more connected, and more focused. I don't know about you, but the thought of cheating myself out of awesomeness is quite alarming!
I'm challenging you to flip the script in 2021 and turn your excuses into your reasons! Write down the excuse that comes to mind, and then list ways to turn it into a positive. A common excuse is, "I have kids; it's too hard to eat healthy!" Let's pause and reframe this thought. "I want to teach my kids the benefits of eating healthy; eating healthy will give me more energy to give to my kids; choosing healthy foods with my kids, preparing them together, and having healthy meals together is something I value" are a few ways to get off the excuse train!
Watch! Dr. Seth's Example of Excuses vs. Reasons
Give Your Brain a Boost with Dopamine!
Dopamine is known as the feel-good hormone! The release of this neurotransmitter boosts mood, motivation, attention, and helps regulate movement, learning, and emotional responses. Try one of these dopamine hacks the next time you need a pick-me-up!
It's Detox Time
Virtual Event: Secrets of a Successful Detox
Start the new year refreshed and refocused with our third annual team detox! All are welcome to join the Rising Sun Squad for a 7 day program starting Monday, January 25th OR begin on your own! Please contact us with questions by calling 934-3333!
Why a detox?
-Improve digestion
-Increase energy
-Promote mental clarity
-Eliminate toxins
Save 10% on detox nutrition kits through the end of January! Here's what you'll need:
-Dynamic Detox
-Detox Phase I & II
-Digestive Complete
-Fruits & Greens
Included in your detox program:
-7 and 10 day guide
-Nutrition schedule
-Recommended food list
-Symptom tracker
-Start and finish body analysis
-Support from RSC + WL staff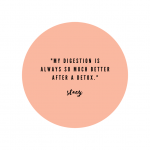 Welcome, new patients! Click Here to Schedule an Appointment