Powerful pain relief in St. Peter with Deep Tissue Laser Therapy 
—
Deep tissue laser therapy is at the cutting edge of pain and recovery treatments.  At Rising Sun Chiropractic + Weight Loss we have been providing laser therapy for more 2 years and  we have seen a massive shift in our outcomes in acute, chronic and even injuries thought to be untreatable.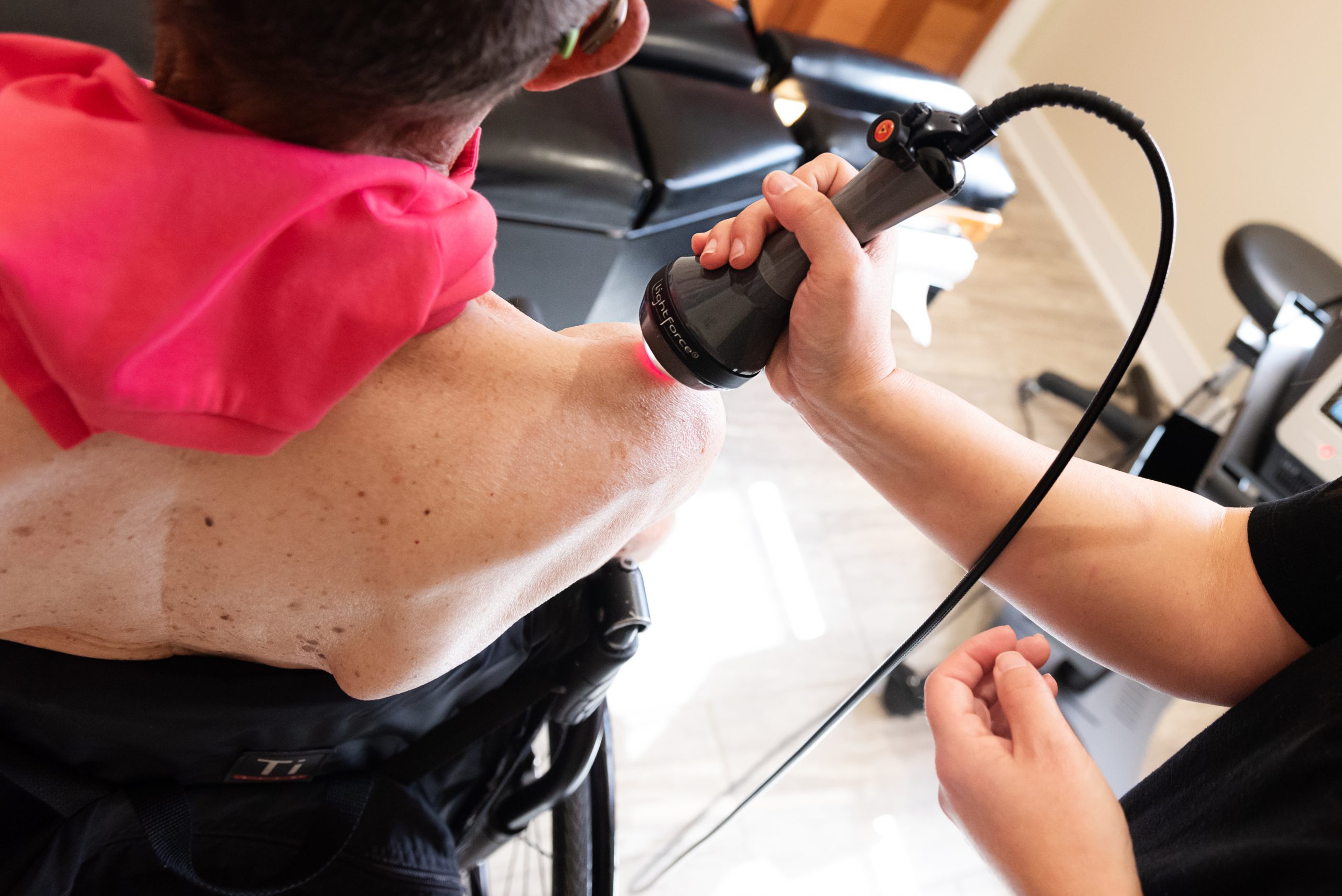 What conditions can you treat with deep tissue laser therapy?
With the LightForce EXPi, we can deliver the right amount of energy to promote faster recovery, better pain relief and superior results. Deep tissue laser therapy stimulates and accelerates healing and tissue regeneration, reduces inflammation, and restores normal cellular function.
Laser therapy is beneficial for treating the pain and inflammation associated with the following conditions:
Neck and shoulder pain
Low back pain
Knee pain
Sciatica
Sports injuries, like sprains and strains
Tendonitis
Foot and ankle conditions
What are your St. Peter neighbors saying about Laser Therapy?
How Does Deep Tissue Laser Therapy Work?
How Does Laser Therapy Treat Pain?
Laser therapy uses a process called photobiomodulation.  The laser therapy enters your body and triggers your cells to start making more energy by stimulating something called Mitochondria. The mitochondria trigger a cascade of events in your body improving cellular metabolism and a decrease in both pain and inflammation. Unlike medications, laser therapy reduces pain without undesirable side effects.
How Many Treatments Will I Need?
It is also important to point out that patients report long-lasting pain relief. While the number of treatments required may vary depending on new vs chronic nature of the condition, many patients experience lasting relief after only a couple treatments.
4 Things You Should Know About Laser Therapy
1.) Pain and inflammation improve without side effects
Laser therapy reduces pain and inflammation without SIDE EFFECTS!  Your chiropractors at Rising Sun Chiropractic + Weight Loss always put patients first.  When you are in pain the last thing you need is to worry about side effects.  Laser therapy is well tolerated and is great at helping you feel better, even after 1 treatment.
2.)You can get relief from acute and chronic injuries
We see great success with a variety of musculoskeletal injuries.  Have you been told there is nothing you can do about your pain? It's frustrating and can be depressing to feel like there is nothing you can do.  Many of our favorite success stories come from patients with chronic pain cases, arthritis, disc pain, ligament pain and tendinopathies.
3.) Laser therapy is customized to your injury
You are unique and so your injury.  The chiropractors at Rising Sun Chiropractic + Weight Loss chose the Light Force EXPi because it is powerful and flexible.  When you are dealing with a lower back disc injury or arthritis in the hip you need a very powerful laser to reach the injured tissue.  If you are treating your TMJ or carpal tunnel you need less power to get the best treatment.
4.) Treatments Feel Good and are Fast
Your hurting the last thing you want is to have a therapy or treatment that is uncomfortable or worse makes your pain worse.  Deep tissue laser therapy feels good.  Every day patients will report that they feel better, and sometimes MUCH better after their treatment.  You probably have a list a mile long of the things you need to do everyday and usually taking care of yourself is not at the top of the list.  Knowing that your pain relief is just a few minutes away can be the difference in taking care of yourself today or pushing self care off to tomorrow.  Laser treatment sessions are typically just a couple minutes and we strive to keep a tight schedule so you can rely on us to keep you on your daily schedule.